Looking for a dog-friendly alarm system in Long Island?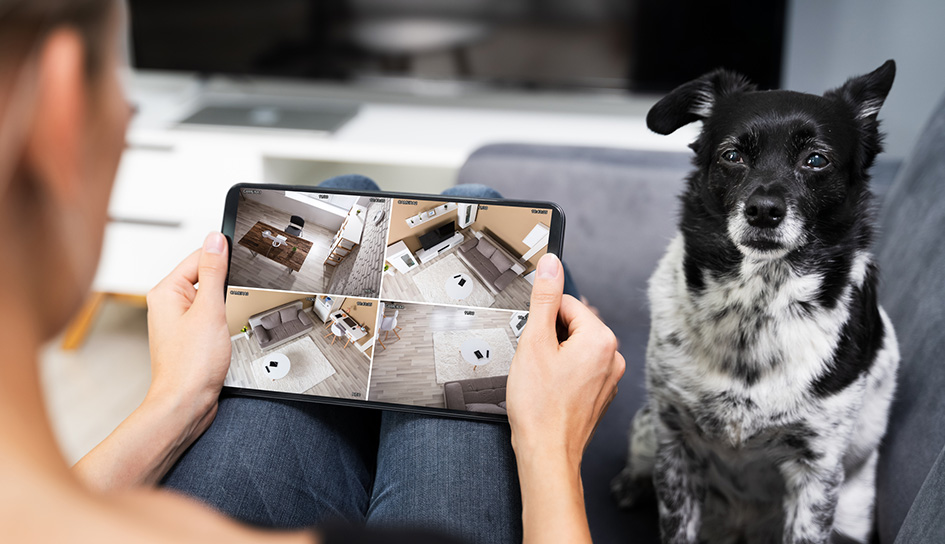 Not much is more rewarding than sharing your home with a dog in Long Island. Even so, quite a few furry friends are inclined to set off alarms on different types of home security systems. And it stands to reason that the larger your dog is, the greater the chance they might be the source of a false alarm. So don't you think it would be helpful if there was a dog-friendly alarm system in Long Island?
Vivint's home security alarms have built-in options that make sense for pet-loving families. To start with, you can adjust the sensors to disregard locations where your four-legged friends usually wander about. Then, utilize your indoor video cameras with high-def night vision and motion detection capacity to maintain a close watch of your animals. Finally, your dog-friendly alarm system ought to be straightforward to interact with so you are able to rapidly activate and deactivate your property's security as you need.
Adjust your sensors to allow for pets
Today's window, door, and motion sensors are more accommodating to pets than before. Cats and smaller dogs shouldn't have any problem averting an accidental triggering of the sensor, as the system are capable of adjusting. Bigger dogs and rambunctious pets may have a greater chance of causing false alarms, but you are able to decrease that likelihood with a few adjustments on the Vivint mobile app.
Set the sensitivity of your motion detector to low. You may even adjust the range of the device.
Install detectors away from frequented places, like your dog's pet bed or food bowl.
Deactivate your alarms via your cell phone app before you pull in the driveway -- especially if your dog is known to bound past your front door or nearby windows when you walk up the front steps.
Set a smart bulb to turn on to relax an uneasy dog after the sun goes down.
The capability of handling these modifications ranks Vivint as the top pet-friendly home security system in Long Island.
Turn to your indoor security cameras to see what's going on with your dog
Indoor video cameras with two-way talk are an easy way for pet parents to look into their four-legged companions while away from home via your intuitive cell phone app. Your indoor cameras can even pick up your pet in lower levels of light in full HD, so you're able to observe what they are doing downstairs without getting out of bed. Whenever your video components notice abnormal motion, you can have a video snippet sent to your phone to ascertain if it's your pet or a burglar.
Anxiety is common among dogs and if that's the case with your animal, Vivint surveillance devices could be beneficial to you. Whenever you find them starting to become distressed, talk to them by using the two-way audio feature. They will hear your voice and know that it's ok. Or, if you find that they are stressed in a storm, you may remotely flip on a smart bulb to make the scene less scary.
The best dog-friendly home security system in Long Island is a breeze to use
These animal-friendly features are great, but they wouldn't help much if they were hard to manage. The good part about a smart home plan like Vivint's is that the various tools are found in both your smart hub and your smartphone app. Go ahead and set your devices around your unique household -- and that includes your furry companions! All it requires are some taps of your screen and you have your entire home security set up and ready to go.
Get your animal-friendly security system today!
Your home's defense shouldn't need to be an ordeal for your dogs. Rather, it should provide security while letting you create the best environment for your animal companions. CallContact us at (631) 502-4004 or submit the form today!
Cities Served Around Long Island By Smart Security Specialists Your Local Vivint Authorized Dealer